RODY.3
Rodylounge evolves to become RODY.3 !
Evolving habitat for small animals (hamsters and mice), the new RODY.3 range offers a new design with a new cage bottom and top as well as a lightly grey tinted plastic.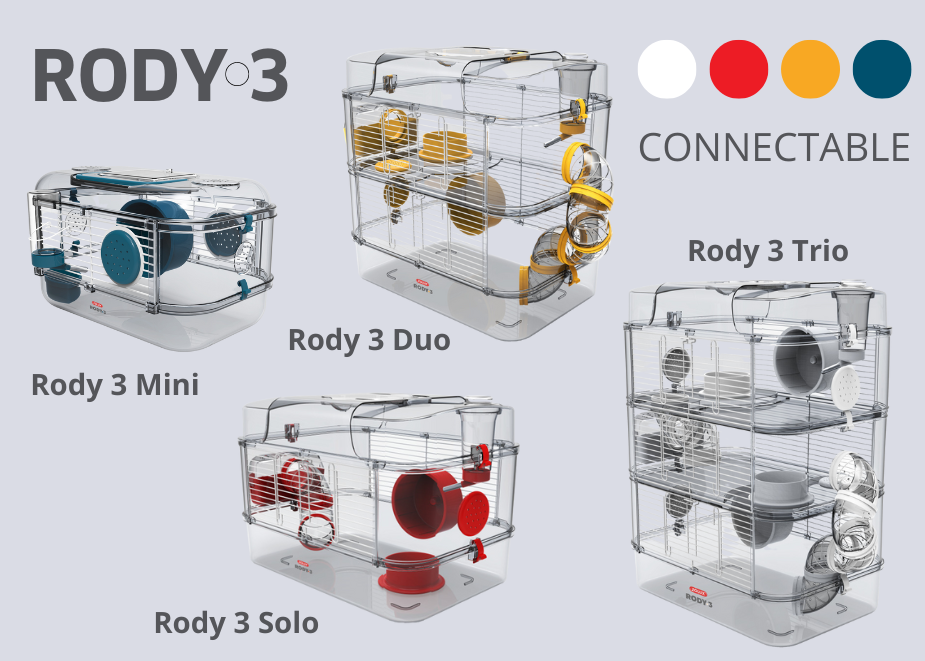 Cages are sold equipped and now come in 4 trendy colours (white, blue, banana and grenadine). Additional accessories are available and come in solid colours for a more modern look.
RODY.3 Mini Cage

This evolving habitat for small animals is composed of one level and is perfect as an additional living space or as a travel cage!
It is available in 4 colours: white, blue, banana, grenadine.

Ref. 206013
RODY.3 Duo Cage

This evolving habitat for small animals is composed of two levels with all of the necessary equipment!
It is available in 4 colours: white, blue, banana, grenadine.

Ref. 206020
RODY.3 Solo Cage

This evolving habitat for small animals is composed of one level with all of the necessary equipment!
It is available in 4 colours: white, blue, banana, grenadine.

Ref. 206015
RODY.3 Trio Cage

This evolving habitat for small animals is composed of three levels with numerous equipment! It is available in 4 colours:
white, blue, banana, grenadine.

Ref. 206022
RODY.3 product range