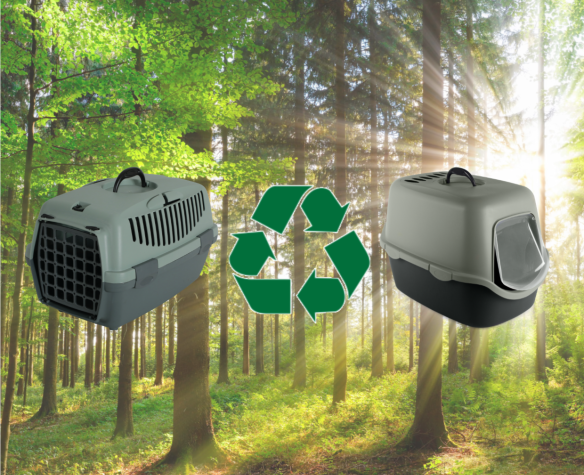 Recycled plastic range
Protect nature while taking care of your pet!
Practical and robust, this new environmentally responsible range is made from (at least) 50 to 90% recycled plastic! With their multiple functions, these products are also essential items for keeping your pet safe and comfortable.
Gulliver recycled plastic pet carriers
Gulliver recycled plastic pet carrier characteristics:
Made from 90% recycled plastic
Suitable for all types of transport
Safety belt inserts
Numerous side vents for your pet's well-being
Robust and easy to clean
User-friendly design with handle
Made in Italy
Référence : 422 180
Our comfortable and spacious Cathy recycled plastic litter house with filter is now also available.
➜ Made in Italy, from at least 50% recycled plastic, it comprises a charcoal filter which neutralises unpleasant odours, and a swing door allowing easier access for your cat.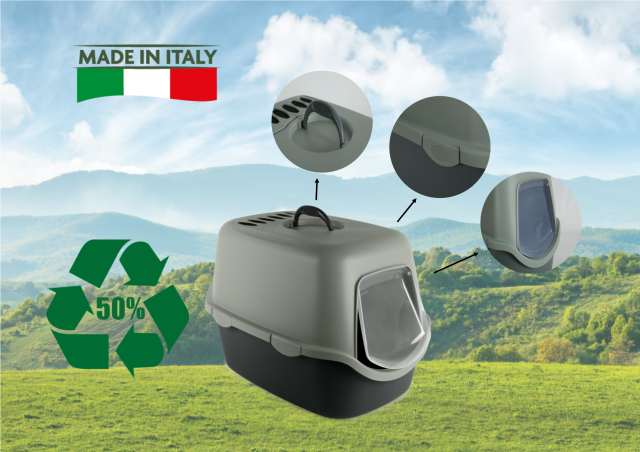 Cathy litter house with filter characteristics:
Made from at least 50% recycled plastic
Comfortable and spacious
Swing door for easier access
Charcoal filter to neutralise unpleasant odours
User-friendly design with handle
Made in Italy
Référence : 590 023
By using recycled materials we can reduce the environment impact of our products by:
- 43%* for the Gulliver recycled pet carrier compared with the Gulliver standard pet carrier of the same size, and -19%* for the Cathy recycled litter house with filter, compared with the standard version